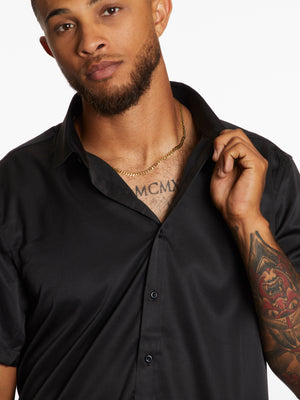 Handcrafted in northern Italy
Confidence and Sophistication
Wearing luxury jewelry is not just a display of wealth, but a statement of self-assurance, style and the embodiment of refinement, making one feel confident and sophisticated.
Only The
FINEST MATERIALS
Our gold jewelry is expertly crafted in Northern Italy using only the finest materials. Each piece is made from pure 925 sterling silver and coated 3 times with genuine 18k gold, resulting in a thickness that is 3-5 times greater than typical gold plating.
★★★★★

A gold chain is more than an ornament, it's an extension of one's personality and a mark of distinction
★★★★★

Wearing a luxury chain is a sign of self-confidence and respect for one's own style
★★★★★

Fine gold jewelry is the ultimate representation of wealth and success, making a bold statement of one's taste and status.
★★★★★

A gold chain is not just an accessory, it's a statement of style and class.
We are not Amazon, but we typically ship orders within 24-48 hours.
All of our jewelry is crafted with the following high-quality materials: 18k Gold-Plated .925 Sterling Silver,14K Gold-Plated Brass, 14K Rose Gold-Plated Brass, Gold-Plated Brass, Rhodium-Plated, and Cubic Zirconia. Our jewelry is nickel and lead-free. Please review the products discription to see the exact materials.
Please allow 24-48 hours to process your order. Once the order has shipped it should arrive in 4-7 buisness days.
Absolutly! You will recieve your tracking number once your order has shipped.